Sem[b]arangan 1ST Gathering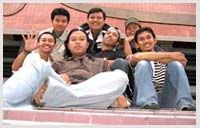 Hehe Postingan yang lumayan basi nih, gara gara suka ngejunk di ID-Gmail jadi nelantarin Blog. Jadi begini saudara-saudara pada tanggal 15 Oktober 2005 kemarin telah disetujui untuk ditetapkan menjadi tanggal resmi berdirinya Komunitas Blogger Semarang, nama resminya sih menyusul, something to do with Loenpia lah pokoknya.
Jadinya kemarin sabtu sore itu kita ber 7 (Aku, Pepeng, Didik, Fiand, Nev, Lif, Yogie) kumpul di Masjid Baiturrahman Simpang Lima. Sayang si Ropix harus pergi dulu tanpa bersua dengan kita karena keperluan pekerjaan. Akhirnya pada hari itu diiringi dengan bedug maghrib yang dinanti-nanti, kita cetuskan bersama Komunitas Blogger Semarang. Cerita-cerita selengkapnya bisa dilihat di sini :
Long Live Blogger Semarang!