Thank You, Do As Infinity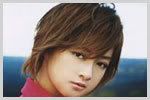 Memorizing the wonderful journey of
Do As Infinity (29/09/1999 – 29/09/2005)
It's been a quite sometime since my last post, and though the blogging spirit hasn't come back to me yet, but this day (29/09) for the sake of fan's love, I have to write this :-).
Do As Infinity (ドゥ・アズ・インフィニティ / DAI), is one of greatest japanese bands. Their songs are just damn great, heart warming, and simply unforgetable. Hey, don't be fooled by picture of two weirdos in the header image. I chose that picture on purpose. That picture is one of rare images of DAI, taken from Gates of Heaven 2003 Calendar. Actualy they are two of the main DAI members, Tomiko Van and Ryo Owatari. Other members are Nagano Dai and Me. (Yup, the fourth member of DAI is their fans :-)
This day is exactly one year of their disband. It's sad, -really- sad. DAI is one of those rare bands who have a really strong bond with their fans. As a regular otaku, I listen to many japanese artists, ranging from the most famous to the least heard of japanese indie (anyone ever heard of Swinging Popsickle? Lost in Found? Spangle Call Lili Line? Advantage Lucy? Linus' Blanket? …Well, I do! :-) Though they (my favourites) all are very good, but nothing really comes close to my heart as DAI do. I don't know why, but as far as I can see, I'm not the only one who feel this way. DAI might doesn't have the hugest fanbase arround, but quantity doesn't really matter right? Once you love DAI, then you'll love them to the heart, forever! …and I'm not making this up.

I'm not going to (re)tell you about DAI, there a so many better sites out there, who made a fine review about DAI. I just simply want to say thank you, thank you for wonderful seven years (and counting) of your wonderfull music. Yeah, though they are already disbanded, it doesn't mean that I can't listen to them anymore, right? Thank you for the days of your smile, Ban-chan! Thank you for sweet tears you've cast into my soul, thank you for everything, thanks you for being there!
Thank you to remind me that though it is often unseen and unfelt, love do exist…
I will continue to love you forever
Even if all the people in the world changes into an enemy
[Need Your Love]

Thank you for such a joy, even between glimpse of sweet sadness…
Because the rain hides my tears,
I want to walk home without using an umbrella
Although it's a town I should be used to walking in,
it gets terribly lonely
[Ever…]
Thank you to remind me that dreams are dreams, the curse that keep us alive…
With the many shining fireworks during the journey,
The troupe goes out for the finale
Why did the dream I have
fall from my hands like sand
over and over again?
[Aurora]

Thank you to remind me that goodbye are sad, but not to be feared…
Goodbye my friend, I won't forget you
I feel proud that I met you
In place of you, the staff of hope
will probably lead us to the end of the light
[Tao]
…And thank you, for the countless inspirations that couldn't fit into this humble page of mine.. :-)
– – –
Pictures are taken from DAI official site and various sources.
Lyrics are courtesy of Cori-chan.