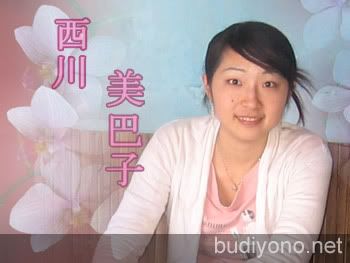 Nishikawa Miwako (西川 美巴子) is a student of Kyushu University, majoring International Relationship. She was here in Indonesia, participating in a traineeship at Bintari NGO, where Adi, one of tukang loenpia (loenpia's member) is currently working.
First time I met her was in Semawis Festival at Semarang's chinatown (15/02). Loenpia.net was visiting Semawis together, Adi brought Miwako-san and Introduced her to us. After enjoying that ultra-crowded festival, We then had a dinner in Waroeng Steak at jl. Kartini.
On Saturday (17/02), together with friends from Loenpia.net, we went to watch movie at E-plaza. The movie was Ghost Rider. The movie was not that good, but it's quite enjoyable. After the movie, we're relaxing and had a little snack at Simpang Lima. After that, the good times keep rollling.. :)

The next thursday, Miwako-san is even had a chance to visit Yogyakarta and meet our neighbor community, CahAndong. On Saturday (24/02), I was honored to be a temporary tour guide. Miwako-san, Asuka-san (another friend from Japan), Me, and Mr. Slamet the driver, had a little tour around Semarang. We decided to to go Bandungan, Jimbaran, and one place that Miwako-san is so eager to visit : Masjid Agung Jawa Tengah. And yeah, we went up to the tower too..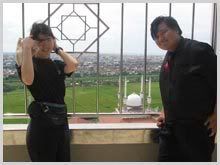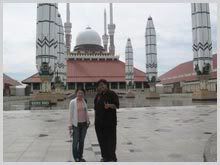 Yesterday (25/02), was the last day for Miwako-san in Indonesia. So we're having a small farewell party. Miwako-san decided to cook Curry for the meal. So that's it, with Dendi and I, we're looking around town to look for the ingredients. The hardest one to find is the Japanese curry paste. Fortunately, We managed to get all the ingredients, and even able to spare time to eat Loenpia at Loenpia Express. You haven't visit Semarang if you haven't eat Loenpia!
The party is held in Bintari office, so we cooked the curry there too. Mariko-san (as the elder), Mas Very (from Bintari) and of course Miwako-san, gave a little speech before the party began. And finally, itadakimasu… and… Hountoni oishiii..!! It's taste great! I even manage to eat the meat! (I don't like meat actually), then there must be friendship power behind this! And maybe it worth to mention that I helped peeling the potatoes :d Too bad that Asuka-san couldn't join us, because she had another occasion.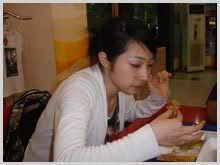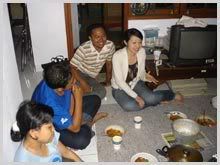 The next day (26/02), Miwako-san is leaving Indonesia. She's going back to her home at Fukuoka Japan. Her study at Kyushu University is just an inch away from completion. She's also already signed contract to work at one of the biggest automobile company in Japan, and maybe she'll start working on around March or April. Tsugoi wa ne! Ja, sayonara to ganbatte ne Miwako-san. Koko ni, boku mo ganbatte! :) I hope that someday, somewhere, somehow fate brought us together again.. *cieh*
btw, I hope I write the name correctly up there, because my Kanji skill is still crappy :)
The photos displayed here are belong to : Me, Pepeng, Masfiq and Dendi.