S.O.S – Single Otaku Squad
S.O.S was declared last night, when I was all alone sitting in a hotel lobby while my surrounding was fully packed with couples, moreover, my mates in a
crazy anime mailing list
mocking me (us) about singleness.
SO BE IT !!
. This the path of redemption! This is a holy door that only the brave dare to enter! This is S.O.S!!
Now, who's with me?? Show me your voices!! Raise your sacred spirit! Rise against intimidation!! Write! share! and let the world know that you're not alone! put this banner on your writing! you may direct link it!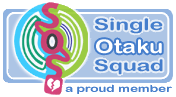 Some Testimonials :
Amakusa Zero :
Tiada cewe 3d seimut cewe 2d! tiada gadis yang moe selain gadis anime!
dunia boleh memanggil kami luser tapi kawaii dan moe adalah jalan
kami! sieg heil S.O.S-dan!
Santoryu Shanzenmaru :
I'd be proud to be S.O.S. Member…
dan diantara tanda tanda mereka yang beruntung adalah yang menyadari keindahan 2d Ecchi girls..
Shadow :
ketika anime disebut kartun
ketika kaum single tertindas
ketika bapak-bapak mengintimidasi

jiwa kami menggeliat
jiwa kami terbangkitkan
jiwa kami terusik

maju menghadang halang rintang
maju menerkam serang hantam
maju hajar bakar dan berkoar
Iswadi :
Singel bukanlah azab… Apalagi derita tanpa sebab…
Singel adalah perhentian sementara… Sebelum berangkat ke kenikmatan tiada tara….
Singel itu hanyalah status… Sebelum kami2 ada yang ngurus…
Maka dari itu bersyukurlah para kaum singel… Persiapkan yang terbaik sebelum jadi dobel…
Anom :
when the world calls us otaku are a trash…
when the world despise our way of life…
we fight back… we keep our way…

we're not a sissy whose lifestyle only copying from magazine…
we didn't follow trends….

you may call us a nerd, a junk, a trash… whatever…
we just don't care…. cause we are strong hearted…

this is the heart of an otaku….
otaku who has a lot of love…
It's just you don't get our love so you don't understand us…

SIEG S.O.S DAN!!!!!
nFath :
Ketika jalan hidup adalah pilihan..
dan ketika status itu dipertanyakan
Ketika jatuh terseok dan berusaha bangkit berdiri..
dan ketika mereka hanya memandang dengan iri

Ini bukan konspirasi
Ataupun teori katarsis dan apatis untuk bunuh diri
Ini hanya isi hati kami
Yang sisakan sedikit ruang untuk sesuatu yang dinanti
Bukan kami tak peduli
Tapi inilah persinggahan sementara kami
Our Fellows :
Boku Baka : S.O.S – Single Otaku Squad
A3 : S.O.S (Single Otaku Squad) Dan
Perompak Jr : Terbentuknya Klan SOS di Id-Anime
nFath : Single Otaku Squad
Black_Claw : S.O.S (Single Otaku Squad) Brigade
Cingi Canga : S.O.S –single-otaku-squad– dan sayapun bergabung
-I will update it-
– – – –
disclaimer :
if you think that our S.OS logo is somewhat have any similiarty to a logo in a particular anime, then that must be just a coincindent. :d :d