Monthly Archives:
December 2007
S.O.S was declared last night, when I was all alone sitting in a hotel lobby while my surrounding was fully packed with couples, moreover, my mates in a
crazy anime mailing list
mocking me (us) about singleness.
SO BE IT !!
. This the path of redemption! This is a holy door that only the brave dare to enter! This is S.O.S!!
Now, who's with me?? Show me your voices!! Raise your sacred spirit! Rise against intimidation!! Write! share! and let the world know that you're not alone! put this banner on your writing! you may direct link it!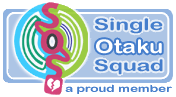 Read More